Change is hard… Usually change is really really hard!!!
However, all of us have something that we would like to change or know needs to change but we are having a hard time making it happen. Here is an article that I used for the Irving Fire Departments Strategic Planning Team but it applies to all of us either personally or corporately. I hope it provides a breakthrough in your change efforts.
Re-Thinking The Fire Service – A New Direction
Only Different Leads to a New Destination!!!
In this diagram, the "Present" represents where we are now and everything that is true about our current situation. To paraphrase Andy Stanley, "Your fire department is perfectly designed to produce the results you're currently experiencing." The "Present" in the diagram represents the way things currently are in your fire department. Effective or ineffective communication. A surplus of leaders or a shortage of leaders. High morale or low morale.
Whatever your fire department is currently experiencing…
IS A DIRECT RESULT OF IT'S CURRENT DESIGN.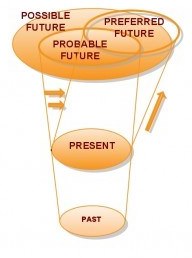 "Probable Future" is where we'll end up if nothing big changes. We can make a few tweaks here and there and still end up in the area called the "probable future".
"Possible Future" is EVERYTHING imaginable that could happen.
"Preferred Future" is where you dream of ending up if everything went RIGHT. Notice that the preferred future extends beyond the possible future. If everything we did went right, some of the things that aren't possible now would be possible then. (Think about that one for a while.)
On the other hand, If we keep doing what we've been doing, we're going to keep getting what we've been getting. To get to the preferred future, we have to significantly change the trajectory of our current course. Small tweaks here and there will not break the inertia of habitual thinking and decision making that leads to the "probable future". When considering the diagram, realize that the "Present" is the "Probable Future" of decisions made in the "Past."
Progress is always preceded by change. Change is always preceded by challenge. Challenging the status quo is often where leadership begins. –
Kouzes and Posner, The Leadership Challenge
FireBoss Realty would love to help you if you are looking for Homes for sale in Wylie, Homes for sale in Sachse, Homes for sale in Murphy, Homes for sale in Lucas, Homes for sale in Allen, Homes for sale in McKinney, Homes for sale in Plano or Homes for sale in Collin County.