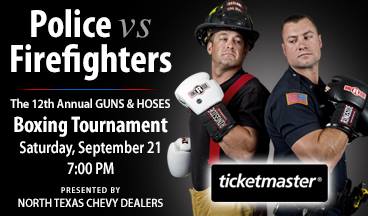 12th Annual Guns and Hoses Boxing Tournament
September 21, 2013 – 7:00 pm
200 E. Stacy Road Allen, TX 75002
This Saturday evening you can enjoy a great boxing tournament and give back to your public servants at the same time.
The Guns and Hoses Foundation of North Texas
GUNS and HOSES Foundation of North Texas, founded in 2002, is a nonprofit 501(c)3 foundation primarily committed to providing support and financial assistance to families of fallen firefighters and police officers, who have lost their lives performing their duty. They also raise funds to benefit at-risk youth programs within our communities and donate designated funds to children's charities within the North Texas area. GUNS and HOSES Foundation of North Texas is managed by a 7-member Board of Directors who administer the organization and approve financial-support awards.
Guns and Hoses Boxing
If you enjoy boxing, this is the event for you. If you enjoy a high energy atmosphere, this is the event for you. If you support your local police and fire departments, this is the event for you… Each bout is three one minute rounds. With the new venue, there shouldn't be a single bad seat in the house. Being only one minute long, each round goes pretty fast but you will get to see replays of the highlights.
THIS IS REAL BOXING by guys who have trained all year for this one event. However, it's all just for charity and bragging rights. You can root for the fighters in BLUE or you can support the fighters in RED… either way, the GOOD GUY always wins!!!
Here's a video of Joe Huth – Irving Fire Department
& Warren Williamson – Farmers Branch Police Department
http://youtu.be/lB97nF9BGWg
Tickets are available from Ticketmaster by Clicking Here
Here's a list of the Guns & Hoses boxers for 2013
Fire
Richard Hancock – Allen
Mari Sanchez – Dallas
Joe Nguyen – Dallas
Krystle Caldron – Dallas
Matthew Flores – Dallas
Ryne Sandhagen – Dallas
Caleb Swaney – Farmers Branch
Brent Ivie – Gainesville
Matt Edington – Gainesville
Chad Deen – Garland
Mark Shearer – Highland Park
Kevin Benson – Lancaster
JR Moore – Monroe La
Ryan King – NRH
Mark Guerra – Plano
Michael Tartaro – Plano
Jeremy Hunt – Prosper
Gerard Locke – Sunnyvale
Police
Jon Craker – Balch Springs
Reggie Clark – Seagoville
Chris Perez – Dallas
Daniel Espinoza – Dallas
Jessi Rodriquez – Dallas
Joe Lopez – Dallas
Josh Cooper – Dallas
Larry Bankston – Dallas
Monigue Jackson – Dallas
Mario Regalado – DISD
Michael Otten – Garland
John Bohmer – Kaufman County
Kevin Croft – NRH
Eric Willadenson – Richardson
James Schumann – Richardson
Samantha Lee – Richardson
Salavdor Sanchez – University Park
Charles Tippie – Weatherford
FireBoss Realty would love to help you if you are looking for Homes for sale in Wylie, Homes for sale in Sachse, Homes for sale in Murphy, Homes for sale in Lucas, Homes for sale in Allen, Homes for sale in McKinney, Homes for sale in Plano or Homes for sale in Collin County.