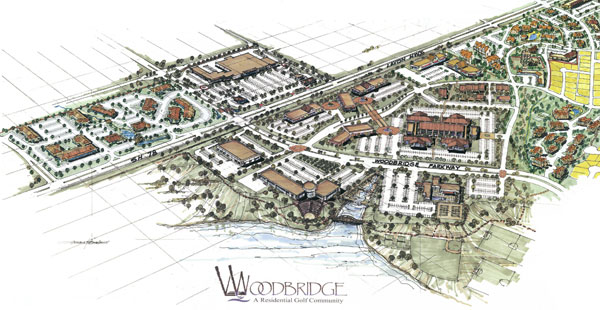 Woodbridge West Rezoning
On June 10th the Sachse Planning and Zoning Commission meeting was packed with Woodbridge West residents who were concerned about the proposed rezoning of a residential tract of land behind the Clearmeadow pool that backs up to the greenbelt behind the houses on Forest Glen Court and Glenshire Court.
On August 12th the meeting was sparsely attended and the rezoning was unanimously approved. Don Herzog had met with a committee of concerned residents to hear their concerns after the June 10th meeting and ideas from that meeting were then presented to Woodbridge residents in general. From those meetings a compromise was reached on the proposed rezoning.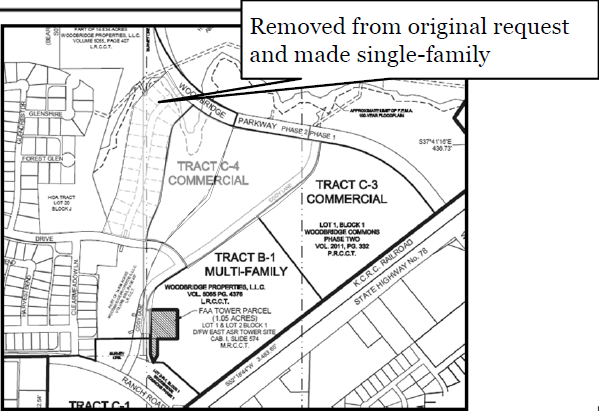 The compromise places two rows of single family homes on the east side of the greenbelt that would back up to the new commercial development. City staff also made a recommendation to remove all lot lines and the street from the Single Family Residential tract and to have them drawn and approved at a later date when the property was being developed.
Two Woodbridge West residents made comments concerning the proposed rezoning. Kevin Kirkman, a strong opponent of the original rezoning plan, applauded Don Herzog for meeting with the residents to hear their concerns and for working with them to develop a compromise that both sides could live with. Mr. Kirkman then gave strong support for the current rezoning proposal. Lana Bass also addressed the commission with a concern that the street in the new tract of single family residences would be used for through traffic from Woodbridge Parkway to Canyon Crest. City Staff proposed that the new residential street would be a cul-de-sac on the Woodbridge Parkway end and would only be accessible from the Canyon Crest end of the street.
Little Genius of Texas LLC – Woodbridge Montessori  School
Little Genius of Texas LLC also made application for approval of a Preliminary Plat for the Woodbridge Montessori School. Questions were raised about access/egress and about the fire lanes but were answered by city staff and the plat was unanimously approved by the commission.