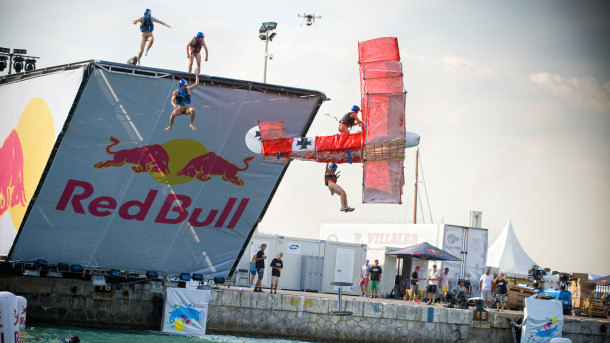 Check Out the Insane Action at the National Red Bull Flugtag
This Saturday September 21, 2013
Lake Carolyn @ The Las Colinas Urban Center
Hangers Open at 11:00 am
First Flight at 1:00 pm
THIS EVENT IS FREE!!!
The National Red Bull Flugtag is happening across the nation this weekend. Five cities are hosting the event with competitors from all 50 states. The Flugtag will occur simultaneously in Washington, DC; Miami, Fl; Chicago, IL; Dallas/Ft. Worth; and Long Beach, CA.
What is the Red Bull Flugtag?
The FLUTAG involves five person teams attempting to fly outrageous man-powered vehicles over water after being pushed off of a 28 foot high platform.
The History Page of the Flugtag website starts in the 1480's. However, Red Bull has been doing this since 1992 when it held it's first Flugtag in Vienna. They have been doing it in the United States since 2002 but this year will mark their first multi-site National Flugtag.
There will be parking in the parking garages around Lake Carolyn but DART rail will get you within walking distance.
Here are some links to more information but the video will tell you all you need to know about the Red Bull Flugtag:
http://youtu.be/b4i6a8YhXS8
Related articles
FireBoss Realty would love to help you if you are looking for Homes for sale in Wylie, Homes for sale in Sachse, Homes for sale in Murphy, Homes for sale in Lucas, Homes for sale in Allen, Homes for sale in McKinney, Homes for sale in Plano or Homes for sale in Collin County.